Only the Best for Your Roanoke VA Commercial Property
Professional Commercial Painting in Roanoke VA
Does the paint inside or outside of your business look unsightly? When the paint fades, cracks, gets stained or peels, it is time for a fresh coat. Maybe you just moved to a different building or launched a new startup and need to paint the building to show your brand's colors. Perhaps you run a condo association or own a multi-family rental property and want fresh paint to attract people. For any reason you need commercial painting in Roanoke, Parmer & Sons Painting is here to help. We have years of combined experience and can stay within budget and finish projects on time.
Commercial Paint Benefits for Your Roanoke Business
When professionals paint the interior or exterior of your commercial building, you can be sure that the result will look spectacular. In addition to the improved look, there are other benefits. Exterior paint helps create a moisture barrier between the elements and your exterior walls. Without the paint, the walls are more susceptible to moisture seepage or damage. Professional painters use high-quality materials to patch cracks or crevices before they paint, and the paints they use are also top-quality finishes. Interior paint also helps protect walls and surfaces when it is applied correctly.
Paint can increase property value. If you are looking to sell the property or lease spaces within it, that is an excellent benefit. Customers are also likely to see more value in your services or products if the interior and exterior look attractive. Employees can benefit from the improvement as well. They may feel more comfortable in a space with the right paint color. With the right paint color choice, you can help them feel more relaxed, energized or inspired. If you select colors associated with your brand, it also helps make other branding efforts more cohesive.
How Professional Commercial Painting Contractors Make a Difference
Quality, professionalism and excellent service are things you expect and deserve from a company that you entrust with making changes to your commercial building. Parmer & Sons Painting meets all your needs with these advantages.
Request Your Quote!
"*" indicates required fields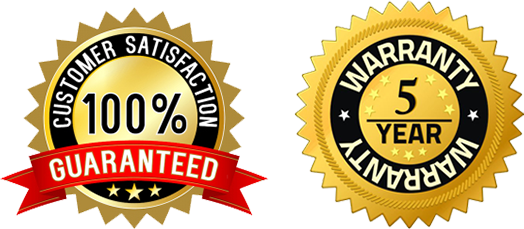 We are sure enough about your satisfaction to offer a 100% guarantee. To back that up, we offer a five-year warranty. Our thorough training, high standards, professional equipment and quality paint products give us the confidence that you will be satisfied. Also, we take time to learn about what you want to ensure the result is exactly what you envision.
Reliable and Skilled Tradespeople
All our painters are experienced, trained and vetted. After they pass our stringent checks, we make sure they are a good fit for our mission and company culture. We put customers and their needs first, and we make sure that all our team members treat businesses or homes as respectfully as they would treat their own when they work. In addition to our painters being familiar with substrates and paint types, they are trained to work with the latest and greatest equipment in the industry. By using professional equipment, they can create exceptional results quickly. They also know the right techniques for applying paint to indoor or outdoor surfaces, and they work well in any environment.
Being licensed requires training, testing, and paying fees. It shows a company's commitment to excellence and provides customers with the peace of mind that they are working with a knowledgeable entity. As a business owner or manager, you know how important it is to limit liabilities in every way. Working with uninsured subcontractors or handymen can put your company at risk. We carry full insurance to cover your property and our workers while we are there painting.
Versatility and Flexibility
Our team has worked with businesses in multiple industries. We can paint office parks, banks, strip malls, restaurants, medical facilities, college campuses, condo buildings and much more. We specialize in all types of commercial coatings and painting. Also, we are flexible in our work abilities. We understand that every minute is valuable, and lost time means lost revenue. Our team can work on weekdays or weekends. If you have a planned shutdown or a time when you are less busy, we do our best to work then.
Ask for Your Customized Commercial Painting Estimate in Roanoke VA
If you are looking for the top commercial painting contractors in the area, we strive to fulfill all your needs for any project. Whether you know the colors you want or do not have any idea yet, we can help. Our skilled team can assist you in finding or choosing colors to reflect your brand, create a certain feeling or attract buyers or tenants. We are committed to providing excellent customer service every step of the way and communicate with you throughout the process to ensure your satisfaction. To learn more or receive a free commercial painting estimate in Roanoke VA, please contact us.